4-channel audio installation, HD video, contact loudspeaker, loudspeaker chassis, aluminium plate, cavity plate, stands, metal spring, wire cable, monitor
Over the course of 24 minutes, sin(x) (24:00) creates organic soundscapes that merge into one another. The nature of the four different loudspeaker constructions have an influence on the sound of the audio signals, depending on the material and shape. All sounds were heard in the installation were created using FM synthesis, which is based on the frequency modulation of several sine tones among each other. In this way, simple tones as well as more complex noises can be generated. Many parameters are randomised, the more chaotic, the more natural the sounds. The sound design moves on the borderline from organic, calming moments to obviously synthesised, digital sounds. sin(x) (24:00) raises the question of the extent to which a system can be behind nature or whether this system only has to be random enough for us to perceive it as natural. Depending on the number of minutes in the installation, which represent hours of a day, the monitor displays the sun's position in the form of a white surface. When one "day" is over, the next begins again in a slightly different form.
Installation with HD-video flatscreen, Ytong, print on PVC foil, clothing rack, wire rope
Typefaces: FR001 by Johannes Thiel. Rhubarb by Daniel Martins

SPACERACE-43 explores abstract messages in form of high pitched frequencies and cryptic typographies. Patterns, notations and shapes form cryptic information as graphical elements on the surface of numeros speculative asteroids. The sequence 43 forms progessing and interacting patterns both visual and sound wise.
Give orange me give eat orange me eat orange give me eat orange give me you

A5 Zine, 16 pages
Eco-friendly Riso-print on Metapaper Extrarough Recycling White 150g/m2
Typefaces: Arial Narrow and Rhubarb by Daniel Martins

Ongoing audiovisual series exploring the workings and interaction of sound and 3D renderings, also how the order of the produced material changes the result.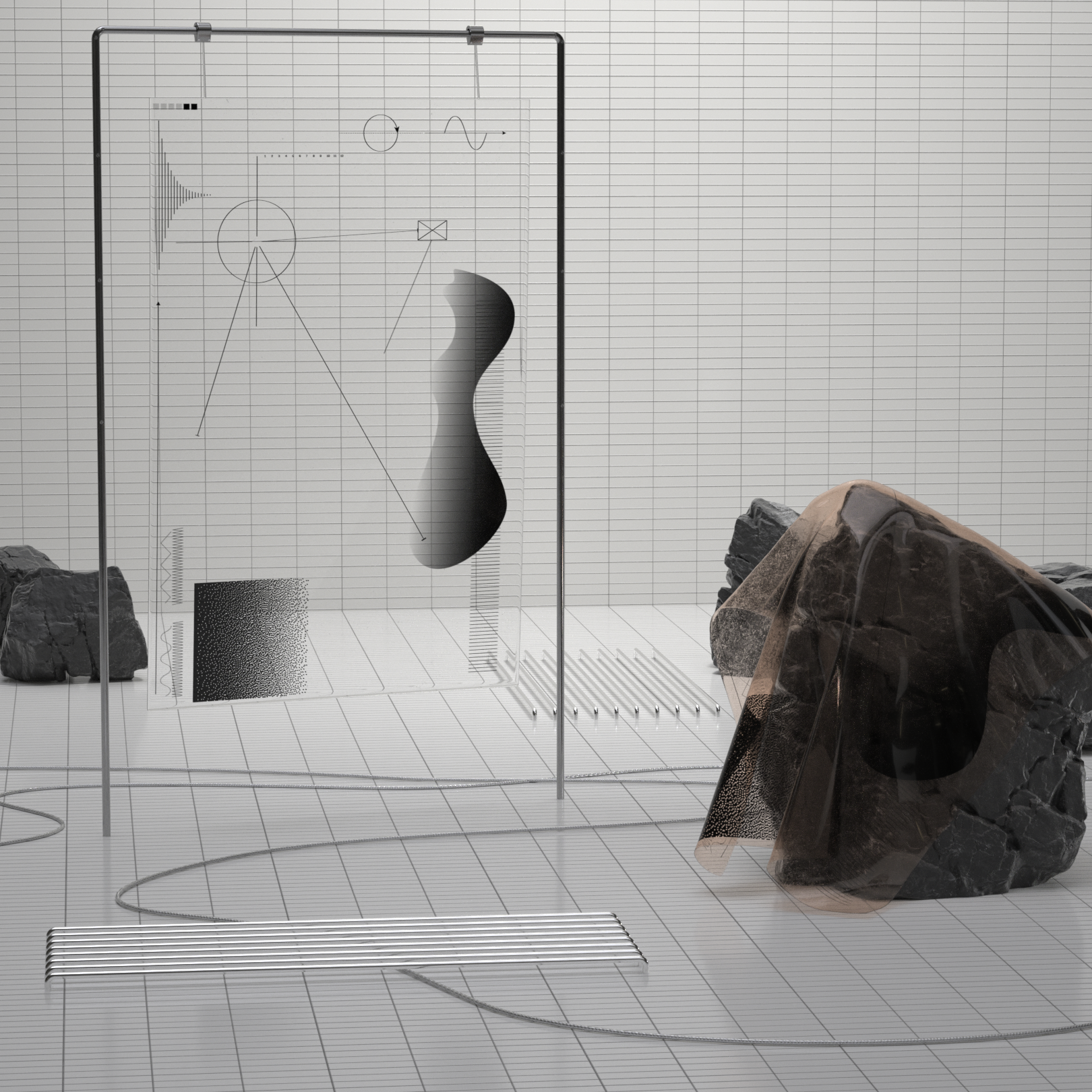 ︎︎︎WATCH SONIC STUDIES 001-005 (PLAYLIST)





MOVEMENT ︎︎︎ CHORDS (V︎︎︎S)
VOLUME ︎︎︎ DISTORTION (S︎︎︎V)
RHYTHM︎︎︎ GRAPHICS (S︎︎︎V)
LIGHT ︎︎︎ REVERB (V︎︎︎S)
GRANULAR ︎︎︎ MOVEMENT (S︎︎︎V)